What are the top travel nurse destinations for work and play? Travel nurses have an insatiable wanderlust, and each assignment brings a new opportunity to explore a new city. While the assignment itself plays a significant role in the overall experience, the location is equally, if not more, important. From small towns with local charm to the thrill of a big city, there are so many opportunities to make memories. Are you ready for your next great adventure on assignment? Let's take a journey through some of the top travel nurse destinations.
5 Top Travel Nurse Destinations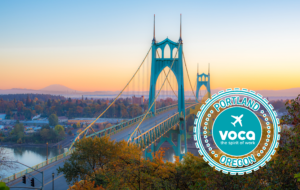 1. Portland, Oregon – The City of Roses
Portland is fondly known as the "City of Roses," boasting a thriving cultural scene, incredible food, and the perfect blend of urban and natural beauty. Additionally, from the colorful rose gardens in Washington Park to the mesmerizing beauty of Multnomah Falls just a short drive away, Portland offers an abundance of breathtaking sights to enjoy during your downtime.
You can't talk about Portland without mentioning its food scene. Moreover, the city is famous for its food trucks and innovative restaurants, offering an impressive range of cuisines that cater to everyone's taste buds. Furthermore, as a food lover, you'll find this gastronomic paradise hard to resist!
What sets Portland apart is its vibrant and quirky culture that celebrates individuality and creativity. Furthermore, from local artisan markets and indie music festivals to quirky coffee shops and vintage bookstores, there's always something to spark your curiosity and inspire your creativity.
Best Places to Visit in Portland, Oregon
Powell's City of Books: The world's largest independent bookstore covering an entire city block. It's a must-visit for book lovers.
International Rose Test Garden: Known as the "City of Roses," a trip to Portland wouldn't be complete without visiting this stunning garden, especially during peak season (June through September).
Washington Park: Home to the Oregon Zoo, Hoyt Arboretum, Japanese Gardens, and the aforementioned Rose Test Garden. It's a great place for outdoor activities.
Oregon Museum of Science and Industry (OMSI): This museum is perfect for kids and adults alike with interactive exhibits, a planetarium, and even a retired submarine to explore.
Portland Art Museum: The oldest art museum on the West Coast, it has a diverse collection of art that spans ancient times to the present.
Pearl District: This upscale neighborhood is filled with art galleries, restaurants, and boutiques. It's also home to Powell's City of Books.
Lan Su Chinese Garden: An authentic Ming Dynasty style garden, built by Chinese artisans, that offers tranquility in the heart of the city.
Portland Farmers Market: There are several markets throughout the city that showcase the region's rich agricultural bounty.
Portland Saturday Market: The country's largest weekly open-air arts and crafts market, open every weekend from March through Christmas Eve.
Voodoo Doughnut: A famous Portland doughnut shop known for its eclectic and unusual doughnut flavors.
Mt. Tabor Park: An urban park built on an extinct volcanic cinder cone, great for hiking and offering stunning views of the city.
Forest Park: One of the largest urban forests in the United States with miles of trails for hiking and biking.
The Witch's Castle: A mysterious stone structure hidden in Forest Park with an intriguing backstory.
Cathedral Park: Known for the stunning St. Johns Bridge, this park offers a peaceful escape and great photo opportunities.
Mississippi Avenue: A hip neighborhood filled with unique shops, bustling bars, and innovative restaurants.
OMSI After Dark: A 21+ event held monthly at OMSI, where you enjoy the museum's exhibits and labs with local food, beer, and wine.

2. Boston, Massachusetts – The City on a Hill
As one of the oldest cities in the U.S, Boston offers a unique blend of historical charm and modern amenities. Also, the city is home to many prestigious hospitals and medical institutions, making it an attractive place for travel nurses.
Best Places to Visit in Boston, Massachusetts
The Freedom Trail: This 2.5-mile-long trail takes you through 16 historical sites in Boston, including the Massachusetts State House, Paul Revere's House, and the Old North Church.
Fenway Park: A visit to Boston isn't complete without seeing one of the oldest baseball parks in the country, home to the Boston Red Sox.
Boston Common and Public Garden: As the oldest city park in the United States, Boston Common offers a green oasis in the heart of the city, and just adjacent, you'll find the beautiful Public Garden.
Beacon Hill: Known for its beautiful Federal-style rowhouses, brick sidewalks, and gas-lit streets, this historic neighborhood is a must-visit.
Museum of Fine Arts: One of the most comprehensive art museums in the world, it houses a vast collection of artworks, including a remarkable collection of American art.
The New England Aquarium: This place is perfect for families with kids. It's home to thousands of aquatic animals, from sharks to penguins.
Boston Tea Party Ships & Museum: This floating museum tells the story of the Boston Tea Party and allows you to participate in a reenactment of the event.
Harvard University and Harvard Square: Take a stroll through Harvard's historic campus in Cambridge, just across the Charles River.
North End: Boston's oldest residential neighborhood known for its wonderful Italian restaurants and for being the home of Paul Revere.
The USS Constitution Museum: Learn about the country's naval history and explore the oldest commissioned warship afloat in the world.
The Boston Children's Museum: An amazing place for younger kids with plenty of interactive exhibits.
The Institute of Contemporary Art: Located in the Seaport District, the museum showcases work from national and international contemporary artists.
Charles River Esplanade: A perfect spot for picnics, walks, or bike rides with a beautiful view of the Charles River.
Skywalk Observatory: For the best view of Boston, go to the Skywalk Observatory, located in the Prudential Center. The panoramic view of the city is breathtaking.
The Boston Public Library: Not only is it the third largest public library in the United States, but it also has beautiful architecture worth seeing.

3. Los Angeles, California – City of Angels
The vibrant and ever-evolving world of travel nursing offers nurses a unique opportunity to explore new cities while advancing their careers. And, while all cities have their unique charms, there's one that truly stands out: Los Angeles. Also, known for its sandy beaches, iconic landmarks, and diverse culture, LA offers an unmatched experience for travel nurses.
One cannot talk about LA without mentioning its eclectic food scene. Furthermore, influenced by the city's multicultural fabric, Los Angeles's food landscape spans from classic American to authentic Mexican, Asian, Middle Eastern, and more. Notably, whether you're a foodie seeking the next culinary experience or someone who enjoys a good, simple meal, the city has something for everyone.
LA's location on the West Coast also places it within easy reach of other exciting destinations. Moreover, short road trips take you to the natural beauty of Joshua Tree National Park or the laid-back charm of Santa Barbara. Additionally, if you fancy a longer journey, San Francisco, Las Vegas, and the Grand Canyon are all within a reasonable driving distance.

Best Places to Visit in Los Angeles, California
The Getty Center: A cultural hub that offers impressive collections of European paintings, sculptures, and decorative arts.
Griffith Observatory: Offers stunning views of the city and the stars. The observatory is situated on Mount Hollywood in Griffith Park.
Hollywood Walk of Fame: This famous sidewalk honors more than 2,600 figures from the entertainment world.
Universal Studios Hollywood: An iconic movie-themed park packed with thrilling rides and attractions.
Santa Monica Pier and Beach: A beautiful place to relax, play games, ride the Ferris wheel, or enjoy a beach day.
Los Angeles County Museum of Art (LACMA): The largest art museum in the western United States, with a collection that includes over 120,000 objects dating from antiquity to the present.
The Broad: A contemporary art museum on Grand Avenue in downtown Los Angeles. The museum is named for philanthropists Eli and Edythe Broad.
Disneyland Resort: While technically in Anaheim, it's a short trip from LA and is often a highlight for many visitors.
The Original Farmers Market: A historic area filled with food stalls, sit-down eateries, prepared food vendors, and produce markets.
Rodeo Drive: A two-mile-long street in Beverly Hills, notable for its luxury goods stores.
Venice Beach: Known for its bohemian spirit, Venice Beach is a great place to people-watch, shop, or relax on the beach.
The Hollywood Sign: An American landmark and cultural icon. There are many trails and viewing spots to take good pictures.
The Huntington Library, Art Collections, and Botanical Gardens: Features vast gardens, an extensive art collection, and a library with rare books.
La Brea Tar Pits and Museum: A unique natural wonder where the remnants of prehistoric creatures are found in the tar pits.
Dodger Stadium: One of the oldest ballparks in Major League Baseball. If you're a sports fan, try to catch a game here.
Natural History Museum: Offers an extraordinary range of exhibits from dinosaurs to gems.
Sunset Boulevard: An iconic boulevard in Los Angeles, filled with shops, restaurants, and nightlife.
The Greek Theatre: An internationally recognized venue in Griffith Park that hosts a variety of live performances.
Los Angeles Zoo and Botanical Gardens: A great place to see a wide range of animals and plants from around the world.
Los Angeles Philharmonic at Walt Disney Concert Hall: The acoustics are incredible, and the architecture is stunning in this concert hall designed by Frank Gehry.

4. Providence, Rhode Island – The Jewelry Capital of The World
Fondly referred to as the "Creative Capital," Providence boasts a vibrant arts and culture scene that never fails to inspire. Moreover, the city is adorned with historic architecture, and it offers a thriving music and theater community.
Despite being a city, Providence does not lack when it comes to outdoor activities. In fact, it boasts beautifully maintained parks like Roger Williams Park, to enjoy hiking, picnicking, and even visit a zoo. Additionally, the city is also just a short drive away from some of New England's most beautiful beaches, making it easy to plan a day trip to the sea. Moreover, for those who enjoy boating, the city's intricate system of rivers and waterways provides ample opportunity.
Best Places to Visit in Providence, Rhode Island
Brown University: Explore the beautiful historic campus of one of the nation's top universities.
Rhode Island School of Design Museum: A great place to explore the world of design, the museum boasts a collection of over 100,000 works of art.
Water Fire Providence: This award-winning sculpture by Barnaby Evans installed on the three rivers of downtown Providence, has been praised by Rhode Island residents and international visitors alike as a powerful work of art and a moving symbol of Providence's renaissance.
Providence Children's Museum: The perfect place for a family visit, it offers many interactive exhibits that are both educational and fun.
Providence Performing Arts Center: For lovers of the theatre, this historic site offers Broadway shows, concerts, and other performances.
Roger Williams Park Zoo: This Zoo is home to more than 160 rare and fascinating animal species from around the world in natural settings.
Benefit Street's Mile of History: This area is known for its concentration of original Colonial homes and buildings, all beautifully preserved.
John Brown House Museum: Discover the story of Rhode Island's birth in the first mansion built in Providence.
Federal Hill: Known as Providence's 'Little Italy,' it offers many Italian eateries, bakeries, and stores. The piazza-style DePasquale Square is a perfect place to relax.
India Point Park: Beautiful views of the Providence Harbor and East Bay are available from Fox Point.
Rhode Island State House:

Rhode Island's General Assembly and governor's offices are located in this historic building.

The Alex and Ani City Center: A year-round attraction with ice skating in winter and various outdoor events in summer.

5. Birmingham, Alabama – The Magic City
Undoubtedly, Birmingham is steeped in rich history and culture. Moreover, there are many attractions to explore in this city, including the Civil Rights Institute and 16th Street Baptist Church, as well as its vibrant culinary scene. Furthermore, Birmingham hosts numerous festivals and events throughout the year, making it a bustling and energetic city.
Without a doubt, if you've never experienced Southern hospitality, you're in for a treat in Birmingham. Furthermore, The people are so welcoming and friendly that it is a pleasant place to live for travel nurses.
The large healthcare community in Birmingham also provides ample opportunities for networking. Additionally, you'll be able to network with professionals from various medical disciplines, potentially opening doors for future employment.
Best Places to Visit in Birmingham, Alabama
Birmingham Museum and Art Gallery: Home to a comprehensive collection of art, applied art, and archaeology.
Bullring & Grand Central: One of the UK's largest shopping centers. Additionally, it features many popular stores, boutiques, and dining options.
National SEA LIFE Centre: A leading marine aquarium featuring over 60 displays of freshwater and marine life.
Thinktank, Birmingham Science Museum: Unquestionably, an innovative science museum that offers a modern, fun, and educational experience.
Jewelry Quarter: The historic heart of the city's jewelry industry, it's filled with unique shops and historical sites.
Cadbury World: A self-guided exhibition tour, created and run by the Cadbury chocolate company.
Birmingham Back to Backs: A museum preserving the memories of the last surviving court of back-to-back houses.
Library of Birmingham: Undoubtedly, an impressive modern library with its dramatic architecture. Additionally, it's one of the largest libraries in Europe.
Aston Hall: A Jacobean-style mansion with beautiful interiors and gardens.
Botanical Gardens: Not only a beautiful and relaxing green space but also a home to a range of unique plants.
The Barber Institute of Fine Arts: An art gallery and concert hall, home to an exceptional collection of art.
Birmingham Cathedral: Known as St. Philip's Cathedral, a beautiful Anglican cathedral and a city landmark.
Symphony Hall: Acclaimed for its acoustics, it is home to the City of Birmingham Symphony Orchestra.
Black Country Living Museum: An open-air museum of rebuilt historic buildings representing life in the Black Country area.
Birmingham Hippodrome: The UK's most popular single auditorium theatre, offering a mix of musicals, dance, comedy, and concerts.
The Mailbox: A stylish shopping and lifestyle destination with designer stores, waterfront restaurants, as well as an upscale cinema.
Remember, as a travel nurse, it's not just about the destination but also the journey. Take the opportunity to soak in not only the diverse cultures, and cuisines, but also the natural beauty that America offers. Additionally, by balancing your work with exploration and relaxation, you make the most of your travel nursing assignment. Moreover, make sure to make your bucket list for the top travel nurse destinations. Lastly, safe travels!
Want to talk to one of our recruiters about finding you an assignment in one of these amazing cities? Contact us today!
About Voca: The Spirit of Work
Voca is a relationship organization focused on uniting talented healthcare professionals across nursing and allied, as well as travel and local with exceptional companies. Headquartered in Rochester, MN, Voca works coast-to-coast supporting national, regional, and local healthcare companies. Voca is proud to be certified by The Joint Commission, which evaluates and accredits healthcare staffing agency organizations and programs in the United States. We are committed to creating and maintaining a workplace in which all employees have an opportunity to participate and contribute to our mutual success and are valued for their skills, experience, and unique perspective. For more information, visit https://myvoca.com/.